Create a Tetris Games on Linux with Shell Scripts
How you familiar in bash shell scripts?
What do you think create a game (tetris) with your shell scripting knowledge?
We are going to show you how to create a shell scripting game and play in on your terminal.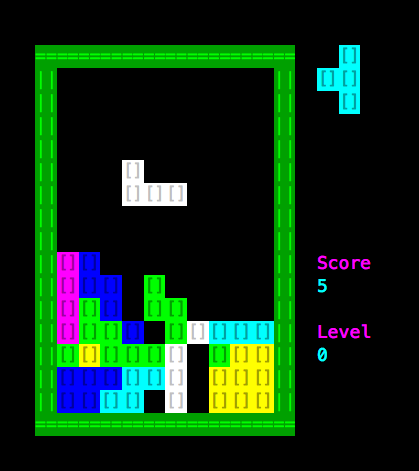 You can get the tetris.sh by clicking the Download Button.
Download Now
changes the permission of tetris.sh
chmod 755 tetris.sh
Executes it by
./tetris.sh
Below are the source code of the Tetris.
Recommend not to copy from the raw data, because formatting will cause the game occurs bugs.
#!/bin/bash

# Tetris Game

#APP declaration
APP_NAME="${0##*[\/]}"
APP_VERSION="1.0"

cRed=1
cGreen=2
cYellow=3
cBlue=4
cFuchsia=5
cCyan=6
cWhite=7
colorTable=($cRed $cGreen $cYellow $cBlue $cFuchsia $cCyan $cWhite)

iLeft=3
iTop=2
((iTrayLeft = iLeft + 2))
((iTrayTop = iTop + 1))
((iTrayWidth = 10))
((iTrayHeight = 15))

cBorder=$cGreen
cScore=$cFuchsia
cScoreValue=$cCyan

sigRotate=25
sigLeft=26
sigRight=27
sigDown=28
sigAllDown=29
sigExit=30

box0=(0 0 0 1 1 0 1 1)
box1=(0 2 1 2 2 2 3 2 1 0 1 1 1 2 1 3)
box2=(0 0 0 1 1 1 1 2 0 1 1 0 1 1 2 0)
box3=(0 1 0 2 1 0 1 1 0 0 1 0 1 1 2 1)
box4=(0 1 0 2 1 1 2 1 1 0 1 1 1 2 2 2 0 1 1 1 2 0 2 1 0 0 1 0 1 1 1 2)
box5=(0 1 1 1 2 1 2 2 1 0 1 1 1 2 2 0 0 0 0 1 1 1 2 1 0 2 1 0 1 1 1 2)
box6=(0 1 1 1 1 2 2 1 1 0 1 1 1 2 2 1 0 1 1 0 1 1 2 1 0 1 1 0 1 1 1 2)

box=(${box0[@]} ${box1[@]} ${box2[@]} ${box3[@]} ${box4[@]} ${box5[@]} ${box6[@]})

countBox=(1 2 2 2 4 4 4)

offsetBox=(0 1 3 5 7 11 15)

iScoreEachLevel=50 #be greater than 7

sig=0
iScore=0
iLevel=0
boxNew=()
cBoxNew=0
iBoxNewType=0
iBoxNewRotate=0
boxCur=()
cBoxCur=0
iBoxCurType=0
iBoxCurRotate=0
boxCurX=-1
boxCurY=-1
iMap=()

for ((i = 0; i < iTrayHeight * iTrayWidth; i++)); do iMap[$i]=-1; done

function RunAsKeyReceiver()
{
local pidDisplayer key aKey sig cESC sTTY

pidDisplayer=$1
aKey=(0 0 0)

cESC=`echo -ne "33"`
cSpace=`echo -ne "40"`

sTTY=`stty -g`

trap "MyExit;" INT TERM
trap "MyExitNoSub;" $sigExit

echo -ne "33[?25l"

while :
do

read -s -n 1 key

aKey[0]=${aKey[1]}
aKey[1]=${aKey[2]}
aKey[2]=$key
sig=0

if [[ $key == $cESC && ${aKey[1]} == $cESC ]]
then

MyExit
elif [[ ${aKey[0]} == $cESC && ${aKey[1]} == "[" ]]
then
if [[ $key == "A" ]]; then sig=$sigRotate
elif [[ $key == "B" ]]; then sig=$sigDown
elif [[ $key == "D" ]]; then sig=$sigLeft
elif [[ $key == "C" ]]; then sig=$sigRight
fi
elif [[ $key == "W" || $key == "w" ]]; then sig=$sigRotate #W, w
elif [[ $key == "S" || $key == "s" ]]; then sig=$sigDown #S, s
elif [[ $key == "A" || $key == "a" ]]; then sig=$sigLeft #A, a
elif [[ $key == "D" || $key == "d" ]]; then sig=$sigRight #D, d
elif [[ "[$key]" == "[]" ]]; then sig=$sigAllDown
elif [[ $key == "Q" || $key == "q" ]] #Q, q
then
MyExit
fi

if [[ $sig != 0 ]]
then

kill -$sig $pidDisplayer
fi
done
}

function MyExitNoSub()
{
local y

stty $sTTY
((y = iTop + iTrayHeight + 4))

echo -e "33[?25h33[${y};0H"
exit
}

function MyExit()
{

kill -$sigExit $pidDisplayer

MyExitNoSub
}

function RunAsDisplayer()
{
local sigThis
InitDraw

trap "sig=$sigRotate;" $sigRotate
trap "sig=$sigLeft;" $sigLeft
trap "sig=$sigRight;" $sigRight
trap "sig=$sigDown;" $sigDown
trap "sig=$sigAllDown;" $sigAllDown
trap "ShowExit;" $sigExit

while :
do

for ((i = 0; i < 21 - iLevel; i++))
do
sleep 0.02
sigThis=$sig
sig=0

if ((sigThis == sigRotate)); then BoxRotate;
elif ((sigThis == sigLeft)); then BoxLeft;
elif ((sigThis == sigRight)); then BoxRight;
elif ((sigThis == sigDown)); then BoxDown;
elif ((sigThis == sigAllDown)); then BoxAllDown;
fi
done
#kill -$sigDown $$
BoxDown
done
}

function BoxMove()
{
local j i x y xTest yTest
yTest=$1
xTest=$2
for ((j = 0; j < 8; j += 2))
do
((i = j + 1))
((y = ${boxCur[$j]} + yTest))
((x = ${boxCur[$i]} + xTest))
if (( y < 0 || y >= iTrayHeight || x < 0 || x >= iTrayWidth))
then

return 1
fi
if ((${iMap[y * iTrayWidth + x]} != -1 ))
then

return 1
fi
done
return 0;
}

function Box2Map()
{
local j i x y xp yp line

for ((j = 0; j < 8; j += 2))
do
((i = j + 1))
((y = ${boxCur[$j]} + boxCurY))
((x = ${boxCur[$i]} + boxCurX))
((i = y * iTrayWidth + x))
iMap[$i]=$cBoxCur
done

line=0
for ((j = 0; j < iTrayWidth * iTrayHeight; j += iTrayWidth)) do for ((i = j + iTrayWidth - 1; i >= j; i--))
do
if ((${iMap[$i]} == -1)); then break; fi
done
if ((i >= j)); then continue; fi

((line++))
for ((i = j - 1; i >= 0; i--))
do
((x = i + iTrayWidth))
iMap[$x]=${iMap[$i]}
done
for ((i = 0; i < iTrayWidth; i++))
do
iMap[$i]=-1
done
done

if ((line == 0)); then return; fi

((x = iLeft + iTrayWidth * 2 + 7))
((y = iTop + 11))
((iScore += line * 2 - 1))

echo -ne "33[1m33[3${cScoreValue}m33[${y};${x}H${iScore} "
if ((iScore % iScoreEachLevel < line * 2 - 1))
then
if ((iLevel < 20))
then
((iLevel++))
((y = iTop + 14))

echo -ne "33[3${cScoreValue}m33[${y};${x}H${iLevel} "
fi
fi
echo -ne "33[0m"

for ((y = 0; y < iTrayHeight; y++))
do
((yp = y + iTrayTop + 1))
((xp = iTrayLeft + 1))
((i = y * iTrayWidth))
echo -ne "33[${yp};${xp}H"
for ((x = 0; x < iTrayWidth; x++))
do
((j = i + x))
if ((${iMap[$j]} == -1))
then
echo -ne " "
else
echo -ne "33[1m33[7m33[3${iMap[$j]}m33[4${iMap[$j]}m[]33[0m"
fi
done
done
}

function BoxDown()
{
local y s
((y = boxCurY + 1))
if BoxMove $y $boxCurX
then
s="`DrawCurBox 0`"
((boxCurY = y))
s="$s`DrawCurBox 1`"
echo -ne $s
else

Box2Map
RandomBox
fi
}

function BoxLeft()
{
local x s
((x = boxCurX - 1))
if BoxMove $boxCurY $x
then
s=`DrawCurBox 0`
((boxCurX = x))
s=$s`DrawCurBox 1`
echo -ne $s
fi
}

function BoxRight()
{
local x s
((x = boxCurX + 1))
if BoxMove $boxCurY $x
then
s=`DrawCurBox 0`
((boxCurX = x))
s=$s`DrawCurBox 1`
echo -ne $s
fi
}

function BoxAllDown()
{
local k j i x y iDown s
iDown=$iTrayHeight

for ((j = 0; j < 8; j += 2))
do
((i = j + 1))
((y = ${boxCur[$j]} + boxCurY))
((x = ${boxCur[$i]} + boxCurX))
for ((k = y + 1; k < iTrayHeight; k++)) do ((i = k * iTrayWidth + x)) if (( ${iMap[$i]} != -1)); then break; fi done ((k -= y + 1)) if (( $iDown > $k )); then iDown=$k; fi
done

s=`DrawCurBox 0`
((boxCurY += iDown))
s=$s`DrawCurBox 1`
echo -ne $s
Box2Map
RandomBox
}

function BoxRotate()
{
local iCount iTestRotate boxTest j i s
iCount=${countBox[$iBoxCurType]}

((iTestRotate = iBoxCurRotate + 1))
if ((iTestRotate >= iCount))
then
((iTestRotate = 0))
fi

for ((j = 0, i = (${offsetBox[$iBoxCurType]} + $iTestRotate) * 8; j < 8; j++, i++))
do
boxTest[$j]=${boxCur[$j]}
boxCur[$j]=${box[$i]}
done

if BoxMove $boxCurY $boxCurX
then

for ((j = 0; j < 8; j++))
do
boxCur[$j]=${boxTest[$j]}
done
s=`DrawCurBox 0`

for ((j = 0, i = (${offsetBox[$iBoxCurType]} + $iTestRotate) * 8; j < 8; j++, i++))
do
boxCur[$j]=${box[$i]}
done
s=$s`DrawCurBox 1`
echo -ne $s
iBoxCurRotate=$iTestRotate
else

for ((j = 0; j < 8; j++))
do
boxCur[$j]=${boxTest[$j]}
done
fi
}

function DrawCurBox()
{
local i j t bDraw sBox s
bDraw=$1

s=""
if (( bDraw == 0 ))
then
sBox="4040"
else
sBox="[]"
s=$s"33[1m33[7m33[3${cBoxCur}m33[4${cBoxCur}m"
fi

for ((j = 0; j < 8; j += 2))
do
((i = iTrayTop + 1 + ${boxCur[$j]} + boxCurY))
((t = iTrayLeft + 1 + 2 * (boxCurX + ${boxCur[$j + 1]})))

s=$s"33[${i};${t}H${sBox}"
done
s=$s"33[0m"
echo -n $s
}

function RandomBox()
{
local i j t

iBoxCurType=${iBoxNewType}
iBoxCurRotate=${iBoxNewRotate}
cBoxCur=${cBoxNew}
for ((j = 0; j < ${#boxNew[@]}; j++))
do
boxCur[$j]=${boxNew[$j]}
done

if (( ${#boxCur[@]} == 8 ))
then

for ((j = 0, t = 4; j < 8; j += 2))
do
if ((${boxCur[$j]} < t)); then t=${boxCur[$j]}; fi
done
((boxCurY = -t))
for ((j = 1, i = -4, t = 20; j < 8; j += 2)) do if ((${boxCur[$j]} > i)); then i=${boxCur[$j]}; fi
if ((${boxCur[$j]} < t)); then t=${boxCur[$j]}; fi
done
((boxCurX = (iTrayWidth - 1 - i - t) / 2))

echo -ne `DrawCurBox 1`

if ! BoxMove $boxCurY $boxCurX
then
kill -$sigExit ${PPID}
ShowExit
fi
fi

for ((j = 0; j < 4; j++))
do
((i = iTop + 1 + j))
((t = iLeft + 2 * iTrayWidth + 7))
echo -ne "33[${i};${t}H "
done

((iBoxNewType = RANDOM % ${#offsetBox[@]}))
((iBoxNewRotate = RANDOM % ${countBox[$iBoxNewType]}))
for ((j = 0, i = (${offsetBox[$iBoxNewType]} + $iBoxNewRotate) * 8; j < 8; j++, i++))
do
boxNew[$j]=${box[$i]};
done

((cBoxNew = ${colorTable[RANDOM % ${#colorTable[@]}]}))

echo -ne "33[1m33[7m33[3${cBoxNew}m33[4${cBoxNew}m"
for ((j = 0; j < 8; j += 2))
do
((i = iTop + 1 + ${boxNew[$j]}))
((t = iLeft + 2 * iTrayWidth + 7 + 2 * ${boxNew[$j + 1]}))
echo -ne "33[${i};${t}H[]"
done
echo -ne "33[0m"
}

function InitDraw()
{
clear
RandomBox
RandomBox
local i t1 t2 t3

echo -ne "33[1m Tetris by LinuxScriptsHub"
echo -ne "33[1m"
echo -ne "33[3${cBorder}m33[4${cBorder}m"

((t2 = iLeft + 1))
((t3 = iLeft + iTrayWidth * 2 + 3))
for ((i = 0; i < iTrayHeight; i++))
do
((t1 = i + iTop + 2))
echo -ne "33[${t1};${t2}H||"
echo -ne "33[${t1};${t3}H||"
done

((t2 = iTop + iTrayHeight + 2))
for ((i = 0; i < iTrayWidth + 2; i++))
do
((t1 = i * 2 + iLeft + 1))
echo -ne "33[${iTrayTop};${t1}H=="
echo -ne "33[${t2};${t1}H=="
done
echo -ne "33[0m"

echo -ne "33[1m"
((t1 = iLeft + iTrayWidth * 2 + 7))
((t2 = iTop + 10))
echo -ne "33[3${cScore}m33[${t2};${t1}HScore"
((t2 = iTop + 11))
echo -ne "33[3${cScoreValue}m33[${t2};${t1}H${iScore}"
((t2 = iTop + 13))
echo -ne "33[3${cScore}m33[${t2};${t1}HLevel"
((t2 = iTop + 14))
echo -ne "33[3${cScoreValue}m33[${t2};${t1}H${iLevel}"
echo -ne "33[0m"
}

function ShowExit()
{
local y
((y = iTrayHeight + iTrayTop + 3))
echo -e "33[${y};0HGameOver!33[0m"
exit
}

.
function Usage
{
cat << EOF
Usage: $APP_NAME
Start tetris game. (linuxscriptshub.com)

-h, --help display this help and exit
--version output version information and exit
EOF
}

if [[ "$1" == "-h" || "$1" == "--help" ]]; then
Usage
elif [[ "$1" == "--version" ]]; then
echo "$APP_NAME $APP_VERSION"
elif [[ "$1" == "--show" ]]; then

RunAsDisplayer
else
bash $0 --show&
RunAsKeyReceiver $!
fi